Food and Beverage Highlights at Sheraton Saigon Hotel & Towers
Go Vegetarian at Saigon Café
Saigon Café will feature a vegetarian buffet corner along with the daily international buffet. There are many choices for vegetarians to choose from such as lotus stem salad, special fresh spring rolls, fried rice with pineapple and raisin, vegetarian mushroom creamy, vegetarian prawn curry, green papaya and fried bean curd skin salad, fried rice with lotus seed and Chinese mushroom, wok-fried glass noodle and so many more awaiting you.
Saigon Café, Level 1
Vegetarian delights
August 3 to September 1, 2016
Lunch: 11:30 – 15:00
Dinner: 18:00 – 22:00
Dinner (Mon-Thu): VND 1,150,000++
Dinner (Fri-Sun): VND 1,200,000++
Eat Well With Vegetarian Delights
Li Bai will also offer a special vegetarian a la carte menu featuring the art of vegetarian food. Those who love vegetarian food can enjoy our special vegetarian menu during the month including stuffed tofu with lotus seed, stir fried mock meat with sweet and sour sauce, fried crispy noodle with vegetables, stir fried baby jack-fruit with sesame, stuffed tofu with vegetable, vegetarian mini buddha jump over the wall soup, stir fried abalone mushroom with chilli and lemongrass, deep fried bean curd skin with sweet and sour sauce, deep fried tofu and mixed with mango and bell chili, steamed tofu with La Han style, and fried sake spring rolls.
Li Bai Restaurant, Level 2
Special Vegetarian menu
August 3 to September 1, 2016
Lunch: 11:00 – 14:30
Dinner: 18:00 – 22:00
From VND 188,000++/ dish
Chef's Recommendation at Signature Restaurant
Food lovers don't miss a chance to have a fine dinner with choices of Spanish pork chop or veal chop prepared and served on the salt block personally prepared by talented chef at Level 23 Signature Restaurant. There will be wine pairings recommended for those who love to enjoy the menu with the perfect wine accompaniment in a romantic atmosphere with violin and guitar music and spectacular views from level 23.
Level 23 Signature Restaurant
Grilled Spanish pork chop or veal chop on salt block
Available daily in August
18:00 – 22:00
From VND 888,000++ per dish
Singapore Favorites
In experimenting with flavorsome ingredients, Mojo Café on Dong Khoi is always developing new dishes to satisfy each diner's tastes and preferences. This August, Mojo's Singapore-inspired special dishes include Nonya Rojak, Laksa Lemak, and Nasi Lemak. Come try and leave with your bellies full and every last taste bud satisfied.
Mojo Café on Dong Khoi
Singapore food
Available daily in August
From 11:00 AM
From VND 98,000++
Refreshing Drinks at Mojo
Mojo Café has chosen a collection of refreshing concoctions for you to celebrate Singapore's Independence Day. Launched in 1932, Tiger beer became Singapore's first locally brewed beer. Beat the heat with these Tiger- rooted cool drinks: Tango, Gold Metal, Black Dream and Orange Potion.
Mojo on Dong Khoi
Singapore drinks collection
Available daily in August
From 7:00 AM
VND 88,000++/ glass
Fruit Cooler Drink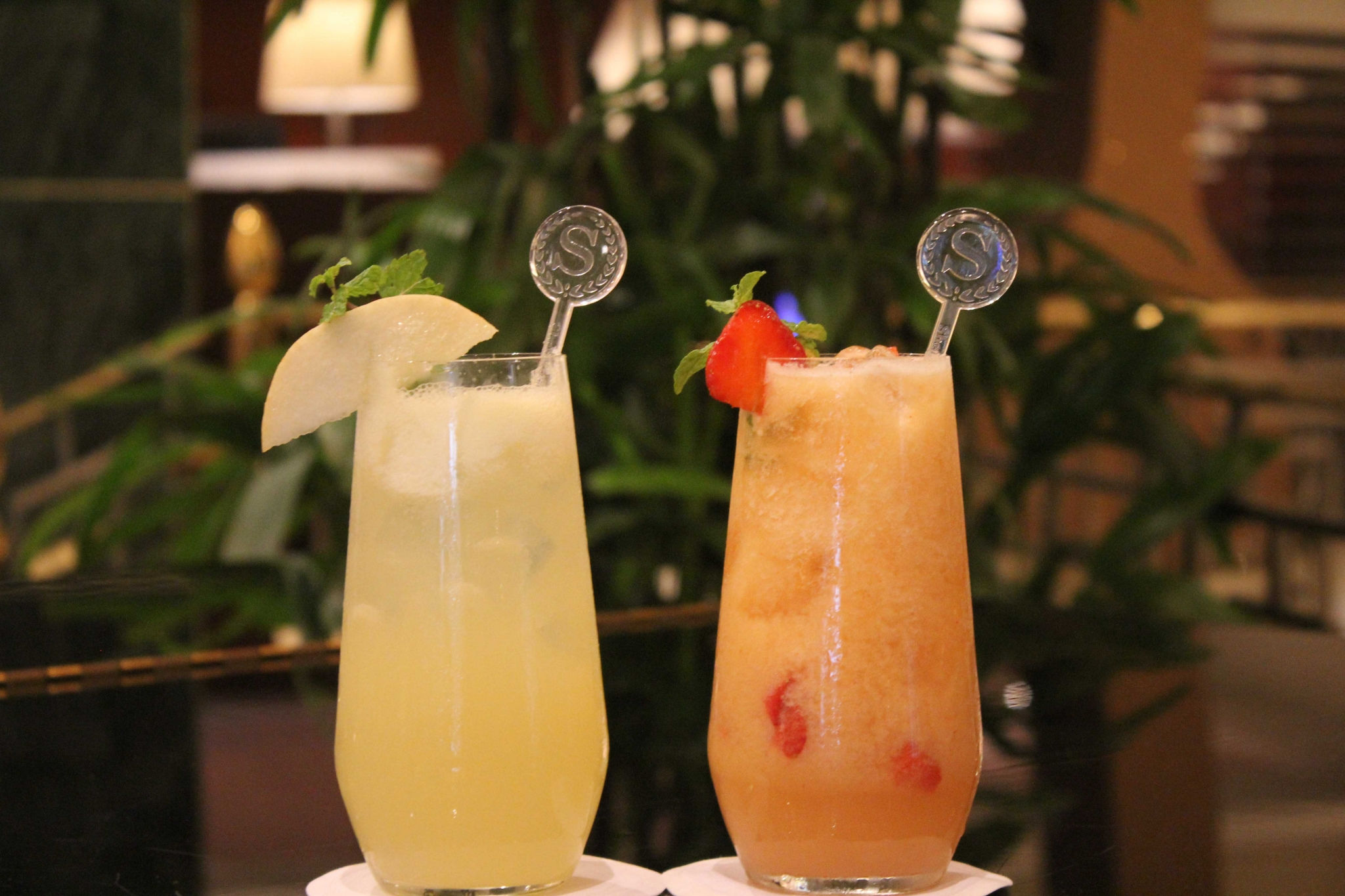 Enjoy Pear Vanila cooler or Strawbery and Mango cooler.
The Lounge in the Hotel Lobby
Avaible daily in August
From 07:00 AM
VND 120,000++
Spanish Night at Level 23 Nightspot & Wine Bar
A Spaish party completes with Sangria cocltails and authentic Spanish favorites.
Level 23 Night Spot & Wine Bar
Spanish party
Every Friday and Saturday in July
VND 180,000++ per Sangria cocktail
VND 389,000++ per Sangria bucket
*Clients must be 18 years of age or older to purchase and/or consume alcohol.
*Offers are not combined with other promotions or discount

Gold Hour at Level 23 Nightspot
VND168.000 ++ for package of 2 local beers
VND268.000 ++ for package of 2 popular cocktails and Iconic Mojitos
12:00 - 20:00 Daily
*Clients must be 18 years of age or older to purchase and/or consume alcohol.
*Offers are not combined with other promotions or discount

For food & beverage reservation booking, please contact our Food & Beverage department
E-mail: ssht.fbsecretary@sheraton.com
Phone: +84 8 3827 2828